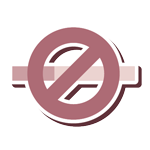 Tobacco Cessation
Quit Tobacco
Did you know? About 70% of Tobacco Users Want to Quit. Of those who try to quit on their own, only6% will be successful. If you are interested in quitting, help is available for anyone who would like to quit smoking/using other tobacco products through the Smoking Cessation Program the University Health Services.
Over half of Americans who ever smoked have quit and so can you. Students have the option to meet one on one with a smoking cessation coach that will assist them with the psychological component of quitting. All sessions are FREE and provided by a Tobacco Treatment Specialist. In addition, FREE nicotine replacement therapy (NRT) in the form of patches, gum and lozenges are provided while supplies last.
We know quitting smoking, dipping, or using other tobacco products is tough however, making the decision to quit is one of the best you can make for yourself, your career, your family, and friends. You don't have to do this alone. We are here to assist you! Call us today at 850-644-8871 to schedule an appointment.
Tobacco Frequently Asked Questions (FAQ)
How do I sign up for your tobacco cessation program?
Call the Center for Health Advocacy and Wellness at 850-644-8871.
Who is eligible to participate in the program?
All fulltime FSU students, ages 18 and older are eligible to participate.
Do you provide services to help smokeless tobacco users (spit, chew, dip, snuff, and snuff)?
Yes, we provide counseling for all types of tobacco use.
What if I relapse and go back to smoking or dipping?
Contact our office to speak with one of our tobacco treatment specialists. They can assist you in preparing to quit again. Many former tobacco users quit completely after several attempts.
How much does it cost to participate in your Tobacco Cessation Program?
All counseling sessions are FREE.
title-inside title-centered
2