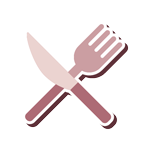 Nutrition Services
It can be a challenge for students to choose quick, easy, inexpensive and healthy food options in the midst of their hectic school, work, and extracurricular commitments. The goal of our Registered Dietitian Nutritionist (RDN) and Nutrition Coaches (NCs) is to help you optimize your nutrition to support overall wellness.
Nutrition Care Philosophy
We utilize evidenced-based, peer-reviewed research and national nutrition guidelines to provide the best care. We embrace wellness versus weight philosophy, health at every size, and a non-diet, mindful and intuitive eating approach. We do not provide weight loss counseling. We help students incorporate balance, variety, and moderation in all food choices, improve their relationship with food, learn to identify and trust our natural hunger and fullness cues, and promote body positivity to achieve overall wellness.
What is the difference between a Registered Dietitian Nutritionist and a Nutrition Coach?
Registered Dietitian Nutritionist (RDN) has extensive education and training necessary to provide appropriate, safe, scientific and evidence-based nutrition guidance. Our RDNs are licensed in the State of Florida and obtain continuing education required for the maintenance of both state licensure and national registration.
Nutrition Coach (NC) – a graduate student in Dietetics who is completing their internship in order to sit for the RD exam. Nutrition Coaches receive training in motivational interviewing, counseling techniques and behavior change theories as well as ongoing supervision from the RDN. Our NC's are educated in all areas of nutrition and have additional training that allows them to screen and assess individuals who may have more complicated nutrition cases. 
How to schedule an appointment
Unless you have a serious medical condition, such as an eating disorder or your medical provider has specifically referred you to the RDN, your first appointment will be with a Nutrition Coach. You can schedule an appointment by calling (850) 644-4567 or visiting the CHAW office on the 4th floor of the Health & Wellness Building. 
Cost:
Registered Dietitian - $15 for initial (45 minutes) and $10 for follow up (30 minutes)
Nutrition Coach - Appointments are FREE
When should I consider seeking nutrition services?
Our Registered Dietitian Nutritionist (RDN) and Nutrition Coaches can help with any nutrition concerns you may have. Concerns include, but are not limited to, poor appetite, low energy, anemia, digestive problems, diabetes, high blood pressure, high cholesterol, sports nutrition, food allergies, food cravings, emotional eating, overeating, negative body image, disordered eating, or eating disorder.
If you have an eating disorder, our RDN will work with you as part of the FSU Multidisciplinary Eating Disorders Treatment Team. Students with chronic or severe eating disorders may be referred to community outpatient or inpatient services.
More information here: What College Women Should Know About Eating Disorders and What College Men Should Know About Eating Disorders
What should I expect when I meet with an RDN or NE?
At your initial appointment, you will complete an intake form which asks questions about your nutrition concerns, current food intake and exercise patterns, and medical history. The RDN or NC will identify areas of concern and then strategize with you to create behavior change goals. Follow up appointments will be made to monitor your progress and to set new goals. 
title-inside title-centered
2