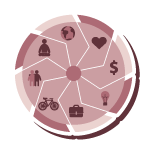 Wellness Coaching
What is wellness coaching?
Wellness coaching is an individualized educational program that provides students with the skills necessary to improve their overall well-being and academic performance. Wellness coaches employ active listening skills in order to understand students' concerns and work collaboratively to devise an action plan to address their specified wellness goals.
Our wellness coaches will create a safe and friendly environment where students will feel comfortable discussing their concerns openly. Our overarching goal is to empower students to take the necessary steps to make desired changes in their lives. We also aim to facilitate personal reflection and insight among students to build resilience in making proactive and informative healthy lifestyle choices.
Depending upon the unique needs of each student, wellness coaches will assist students in a variety of growth areas including:
Stress Management
Relaxation Techniques
Eating Habits
Exercise
Test Taking Strategies
Sleeping Habits
Study Skills
Time Management
Frequently Asked Questions
What can students expect during the initial session?
Students will complete an intake form in which they will identify specific areas of growth to focus on during their individual coaching sessions. In addition, students will also identify strengths that can be used to assist them in accomplishing their goals.
How long are the sessions?
Students will meet with the wellness coach for one-hour sessions.
How many sessions are allotted to students?
There is not a specific allotment of sessions granted to each student. On average, students typically attend an initial and follow up session to ensure efficiency.
How much is the wellness coaching service?
The wellness coaching service is offered to students free of charge.
What is the difference between wellness coaching and counseling/psychotherapy?
Wellness Coach
Focuses on the current and future
Skills based
Works with conscious mind
Works on a specific task or desired behavioral outcome
Focuses on healthy lifestyle practices
Focuses on actions
Focuses on solving the problem
Therapist/Counseling
Generally works on reflecting on the past
Therapeutic and causes reflection
Works with unconscious mind
Open-ended, with understanding as primary aim
Can focus on illness
Focus on feelings and events
Explores the root of the problem
Will the information I share with the wellness coach remain confidential?
There are some situations in which we are legally obligated to take action to protect you or others from harm. These include if we believe that a child, elderly person, disabled person or you are being abused or assaulted (physically/emotionally/sexually); if we believe that a student is threatening serious bodily harm to another; or if a student threatens to harm himself/herself. If a similar situation occurs during Wellness Coaching, we will make every effort to fully discuss it with you before taking any action.
If you are interested in wellness coaching, please contact the Center for Health Advocacy and Wellness at (850) 644-4567.